April 27
Isaiah 44:6 "This is what the LORD says-- Israel's King and Redeemer, the LORD Almighty: I am the first and I am the last; apart from me there is no God.
Today's Thoughts...
I am constantly overwhelmed by God's infinite grace. God is an inexhaustible source of all we need. Our unbelief is discovered in how little we avail ourselves of this infinite fountain.
Jesus Christ is the sum and substance of Christianity, the Alpha and Omega, and everything in between. In the Lord's Prayer (Matthew 6:9-13), the glory of God comes first, and the problem of evil comes last. None can ward off God's hand or say to Him, "What have You done?" His counsel stands from generation to generation.
Is your understanding of God this big? Have you studied to show yourself approved unto Him?
Pray big prayers. Ask HUGE things of God--salvation of lost, church health, justice. We don't worship a small God. And we must not pray like he is.
Today's Prayers....
Father, thank you for being our God. Thank you that there is no way to fathom how amazing it is to know that you are the one true God. Thank you that you are Almighty but you still take care of us. You never leave us nor forsake us. Thank you that we can be content with that. Please help us today for your glory. In Jesus' name. Amen.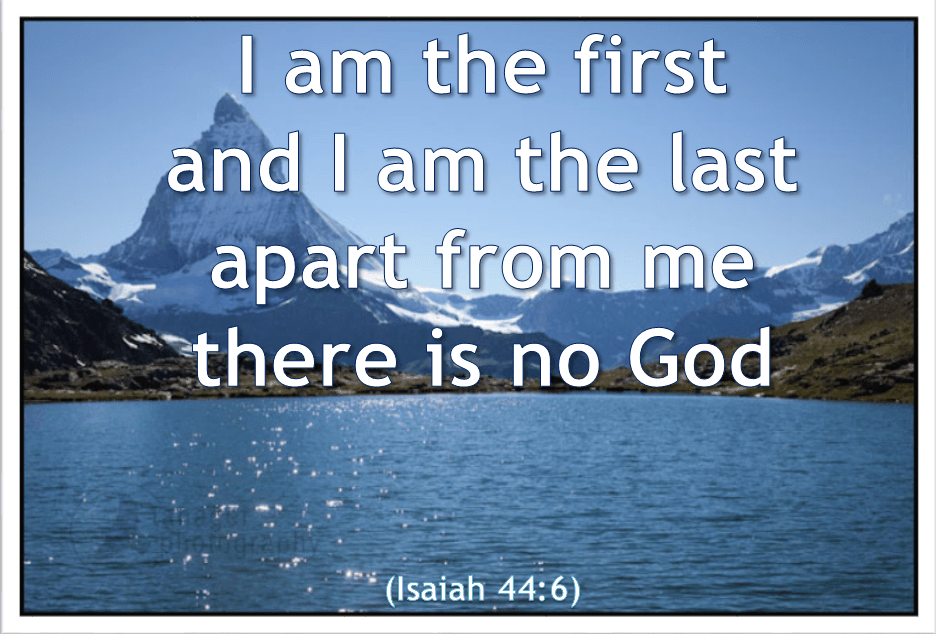 April 28
1 Corinthians 8:6 "Yet for us there is one God, the Father, from whom are all things and for whom we exist, and one Lord, Jesus Christ, through whom are all things and through whom we exist."
Today's Thoughts...
No one can look at the sky—whether it's stormy, starry, or sunny—and honestly say there is no God. Atheists don't exist (Psalm 14). And, yet, busyness, noise, and crowds: How the world attempts to live as if God doesn't exist. We are an easily diverted species.
The purpose--the focal point--that all our capacities and energies exist for: ""Present yourselves to God"" (Romans 6:13). You exist to make much of God. That's why you're here. You were made for this mission (Matthew 28:16-20). God does not exist to make sure that we are happy and fulfilled. Rather, we exist to glorify and to enjoy Him forever.
Holiness without God's grace doesn't exist. Grace without the evidence of holiness isn't God's grace. Either we live for the glory of God, or we do not live at all--we only exist. What or who are you living for?
Today's Prayer...
Father, we're so thankful Jesus is my advocate before the Father at this very moment. So glad he never stops praying for me and you. Heavenly Father, we will GLADLY be embarrassed to be shown how little of the gospel we actually get so far. We know that you are the only true God. Yet, we sometimes live as practical atheists. Those who acknowledge you with our lips, but deny you by our lifestyle. Seems like the better we hear our your laughter in heaven (Ps. 2) the less we will fret and the more we will serve. Help us to do this--all by your grace! In Jesus' name. Amen.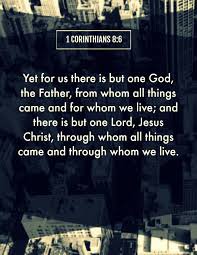 April 29
Matthew 3:17 And a voice from heaven said, "This is my Son, whom I love; with him I am well pleased."
Today's thoughts...
He was PLEASED to reveal His Son to me (Gal 1:16). Crazy! Our Father loves us as he loves his one and only Son, for we are his beloved sons with whom he is well pleased in Christ (cf. John 17:23). The Father gave his one, beloved Son so that grace thirsty rebels like me might cry: ""This is my beloved Savior with whom I am well pleased!
Scripture is the epic story of the coming king whom God the Father calls his beloved Son. Never was so much pleasure packed within the word ""well"". This makes it inevitable that this world will be displeased. Yet, Isaiah says that God was pleased to crush his one and only Son for our redemption (Isa. 53:10). Now that's love!
In Christianity, the moment we believe, God says ""This is my beloved son in whom I am well pleased."" So, what should you do with this Jesus? Listen to him. Listen to him. Listen to him. My (our)only hope is that this banner is forever hung in heaven.
Today's Prayer...
My Father, supremely good, beauty of all things beautiful, help churches and all of us to be less proud of their creative strategies and more prostrate before your exalted Son. May our churches preach with sails filled with the Spirit, and our eyes on Jesus with the heart of you, Father. Help us sleep well tonight, Lord, in the Spirit's sealing, the righteousness of Jesus and the delight of you, Father. Thank you, Lord, that at this very moment, Jesus is advocating for us before you. His pleas and prayers have no contingencies attached. In Jesus' name. Amen.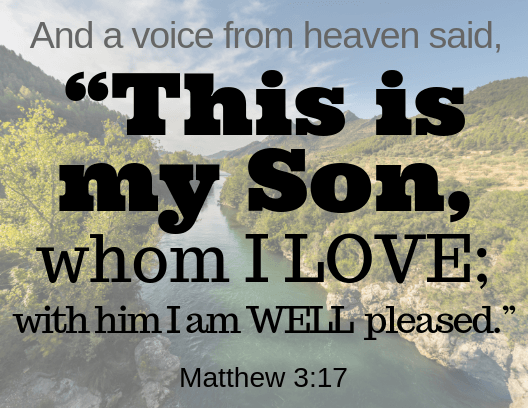 April 30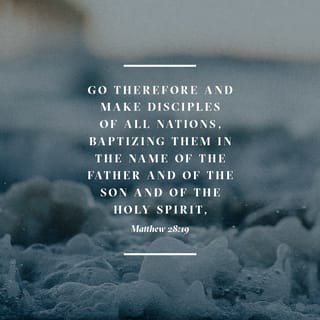 Matthew 28:19 "Therefore go and make disciples of all nations, baptizing them in the name of the Father and of the Son and of the Holy Spirit..."
Today's Thoughts...
Christ's authority stands out in particular in this passage (especially Matthew 28:16-20). This is the Christian's comfort and strength. Its truths press upon us and demand to know what we are doing for the advance of the Kingdom.
The fish on your car may be doing more harm than good, and it's likely not what Jesus had in mind in the Great Commission. We think we get 'the great commission' to make disciple, but 'discipleship' appears to be our great omission!
How are you participating in Christ's Great Commission to take the Gospel to the nations? What is it costing you? Where is your sacrifice?
The church and Christian committed to the Great Commission will be judged on her ability to send and not her ability to gather. Go as a missionary or send a missionary. Either way, the Great Commission should cost you dearly. Look to the harvest. Go or Send!
I beg you to give yourself to the fulfillment of the Great Commission. So many have not yet heard.
Today's Prayer...
Father, the harvest is white. Yet, we are so scared. I am so scared. Yet, there is more sweetness in this word your name, Father, than if we had ten thousand worlds. Father, from the security of our justification, the riches of our adoption and the hope of our future, we live unto you. What we know is we have a world that needs you. Embolden us. Empower us. And encourage us to share the Gospel. We want people to be saved! in Jesus' name we pray. Amen.
May 1
2 Corinthians 13:14 "The grace of the Lord Jesus Christ and the love of God and the fellowship of the Holy Spirit be with you all."
Today's Thoughts...
This passage--an obscure verse at the end of a major letter--is one of the foundational verses about God and Trinity. At the heart of the Christian faith stands the wonderfully deep and mysterious truth—the doctrine of the Trinity. It says there is one God—not multiple. God is three persons—Father, Son, & Holy Spirit.
The Bible makes clear that there is only one true God (Deut. 6:4). This is referred to as monotheism (Greek: mono [one] + theos [god]). The belief in more than one God is called polytheism (Greek: poly = many]. The Christian faith is and has always been monotheistic—believing in the one true, living God.
The triune God is magnificent and his gospel is astounding. In the gospel, the triune Godhead works in concert so that salvation will engulf us in God.
And a note about being united in Christ: Unity is a gospel thing that brings us together before God Triune. Heresy is a devil thing that smells like a ""real elephant"" is in the room. Holding to sound doctrine & loving sinners with radical grace serve the same purpose: making the triune God of glory look glorious.
Is this sound ""heady"" for you today? Don't let it be. What could be more amazing than the permanent union of manhood to the second person of the Triune God? That's how awesome our God is! Worship him today!
Today's Prayer...
Father, the fact that we worship you as one God in three persons is mind-blowing to me. It is deep. It beyond my comprehension--yet, I trust, as I do with so many things, that your Word is enough. You are not three gods--you are one God in three persons--Father, Son, and Holy Spirit. Thank you for loving me--though you are above me. There's only one Father who has ever been enough for us. Let's neither idolize nor demonize our earthly fathers. What a Father! Even when, maybe especially when life is hard, God is committed to recapturing your heart. Thank you! In Jesus' name. Amen.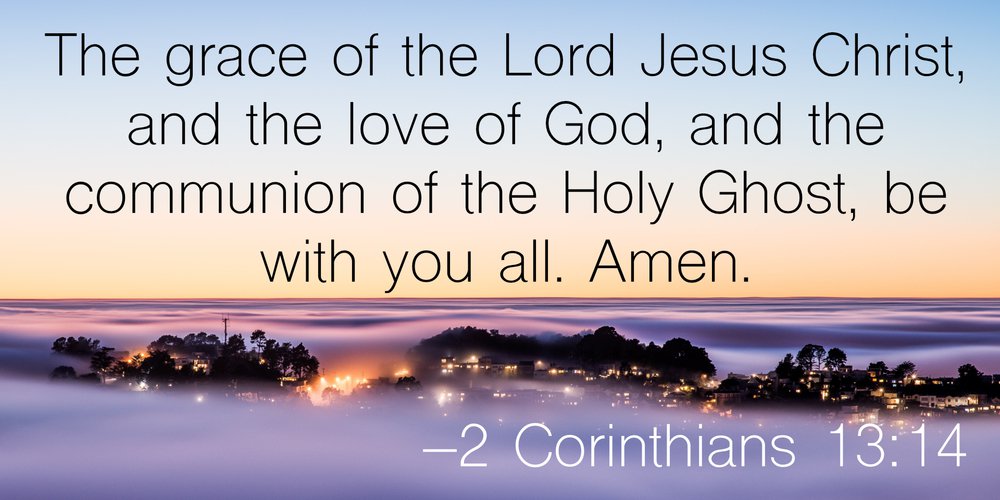 May 2
Revelation 22:13 "I am the Alpha and the Omega, the First and the Last, the Beginning and the End."
Today's Thoughts...
I love the absoluteness of Jesus' authority. There are beginnings and endings for everything else in life. But not for our God!
Before the ages began, God gave us grace in Christ and promised us eternal life (2 Tim 1:9; Titus 1:2). God, from everlasting to everlasting, You are God -- eternal, immortal, invincible God. Political nations and cultural institutions are not eternal. Therefore,God is saving and the devil is destroying individuals.
'Tis a mystery of sovereign grace, but God is pleased to use our prayers to effect his eternal purposes. By his mercy God came and saved us from his own wrath, and by his grace gave his own life for our eternal life. Hallelujah! Pray big and bold.
Friend, do not feed on the roadkill of yesterday's defunct heresy. God has a feast for you in his eternal Word. Build your hopes on things eternal. Hold to God's unchanging hand.
Today's Prayer...
Oh, Father, thank you for the fact that we know you are timeless, changeless, and eternal. Help me get way more excited about Who's at the right hand of the Father than who's with me on the platform of my life today. Help me not act surprised today when you put me with people and circumstances to produce Spirit fruit versus thorns. May the grace of the Lord Jesus, the love of you, Father, and the fellowship of the Holy Spirit guard each of us today. In Jesus' name. Amen.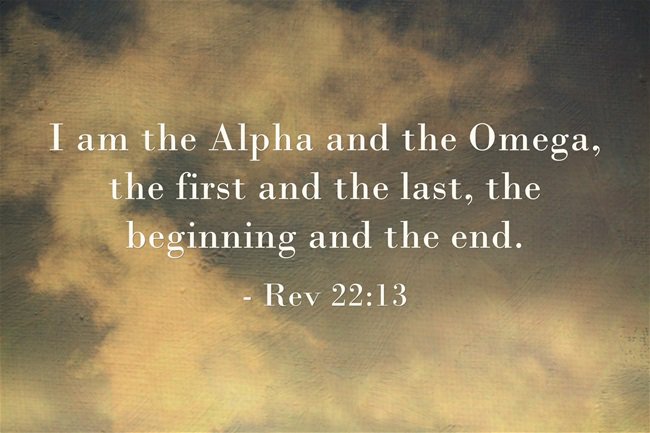 May 3
Isaiah 7:14 "Therefore the Lord himself will give you a sign: The virgin will conceive and give birth to a son, and will call him Immanuel."
Today's Thoughts...
"Immanuel / ""God with us"" = God goes with us, as our ally, into the battle. Everything on the line. He is there. Though it may feel like God has forsaken you, he never has and he never will. He's with you and for you.
We are not alone, not forsaken, not forgotten, and certainly not abandoned. Christ came, and he is with us now--never to leave! My conscience condemns me, but faith tells the conscience to dip itself in the blood from Immanuel's veins. Jesus is Immanuel and the Spirit is given by the Father and the Son in these last days to be God Within Us.
""I will never leave you nor forsake you"" (Hebrews 13:5). How could we face life without this promise? And no power in hell can make him break that promise. Thank God!
Today's Prayer...
Heavenly Father, beyond all we can ask or even imagine, bring glory to yourself today as we gather to worship you in our Verse Post community. Father, from today's sin, wash us; with tonight's sleep, bless us; for tomorrow's worship, free us. Let's give ourselves as fully as we can to the love of the Father, the work of the Spirit and the kingdom of Jesus--all for your glory, Lord. Help us to not forget that you will never forget us. Help us to remember to remember that he won't remember our sins against us. We praise you for this, Father. In Jesus' name, amen!