April 20
2 Timothy 3:17 "So that the servant of God may be thoroughly equipped for every good work."
Today's Thoughts....
Daily Bible reading is the work of kings (Deuteronomy 17:19). A Spirit-filled believer will always be Bible-loving, Bible-learning, and Bible-living. The Spirit and the Word always work together--never apart.
Just because you affirm the value of Scripture does not mean that you are equipped to serve--you've got to study and apply Scripture. We are to present ourselves as workman ready to divide the word of truth. Not the word of a pastor. Not the word of a priest. Not the word of a church. But the Word of God is our primary source of truth that informs all these others area of life.
Let's remember how this works itself our practically: The Bible is the story of a missionary God at work accomplishing his mission among the world and calling you & I to join him in that mission. Every true Christian who can articulate the gospel is equipped for mission. Good works are worship and warfare. They aren't "payback." If they are payback, Christ's good work is insufficient. But the debt is paid.
Jesus died to save a people, not a program. Don't die for your programs. Make sure programs serve and equip people. Please pray that the Lord might give us discernment and lead us to the place He has prepared. Our only desire is to be in the will of God.
Friend, remember, that He who began a good work in you will perfected on the day of Christ Jesus. Live in the present. Look to the end (Philippians 1:6). He who began a good work in you will finish it. His sovereignty is greater than your weakness, confusion, doubt, wrong choices, etc. etc.
Is this God not worth studying today? Have you?
Today's Prayer....
Father, I thank you that we can be your servants--all through the grace of Christ. We praise you that we are yours only through the love that you first loved us with before the world began. We so often forget the power of the Gospel through the power of the Word. Father, we are hopeless without your Word. Protect our churches and families from trusting in anything else except you as you are revealed in Scripture. Father, you are enough for us! Remind me of this today—and thank you that we get to work with you – by grace – in the great mission to reach the world with the Gospel. In Jesus' name. Amen.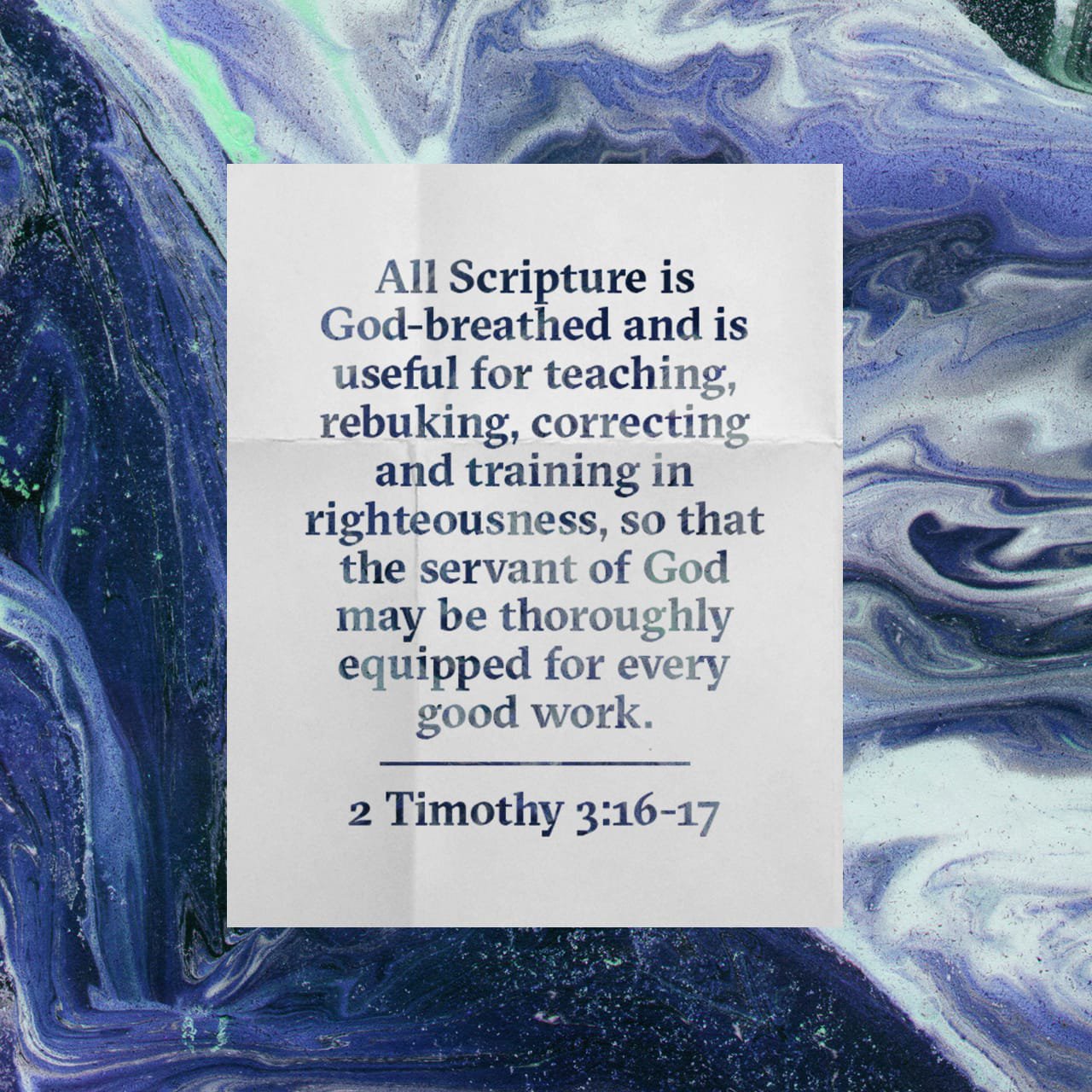 Apri 21
Deuteronomy 29:29 "The secret things belong to the LORD our God, but the things that are revealed belong to us and to our children forever, that we may do all the words of this law.
Today's Thoughts....
God's secret will is secret. We can't tap into this. Beware of those who seem to know all the secret mysteries of God and leave no room for those mysteries about which God's Word is silent. Every secret thing will be found out, and the eternal God of justice, though patient, is yet not slow to do it.
Yet, faith, not about discovering God's secret will, but based on his clear commands, promises, power, and faithfulness is commanded in the Bible. That is what this verse is getting at. We can't know God's secret will, but we can know his revealed will--which is what the Bible is all about!
So where can we find God? In the low place (Isaiah 57:15), the secret place (Matthew 6:6), the honest place (1 John 1:7). You have no privacy, no seclusion. None. ""God will bring every secret thing into judgment, whether good or evil."" Eccl. 12:14 ""God knows the secrets of the heart"" (Psalm 44:21). Sad He must see all that wrong. But grateful I am utterly known by Him!
If ever there were a secret to effective ministry it's this: Grow in God and you'll make a difference in people's lives. Entrust yourself to the one who judges justly, waiting for the day when all wrongs will be made right and all secrets will be laid bare.
Today's Prayer...
Father, on that you judge the secrets of men by Christ Jesus, we thank you that you have given us the greatest love book ever--the Bible. We thank you that Jesus publicly bore our secrets, guilt and shame so we would never have to live in secret, shame and guilt again. And we thank you that we don't have to hide from Jesus. He knows the darkest secrets of our hearts and still wraps his arms of love and grace around us. Wow, Lord, thank you! Father, we leave all of our "Stuff" to you because only you are worthy to handle it--known and unknown. In Jesus' name we pray. Amen.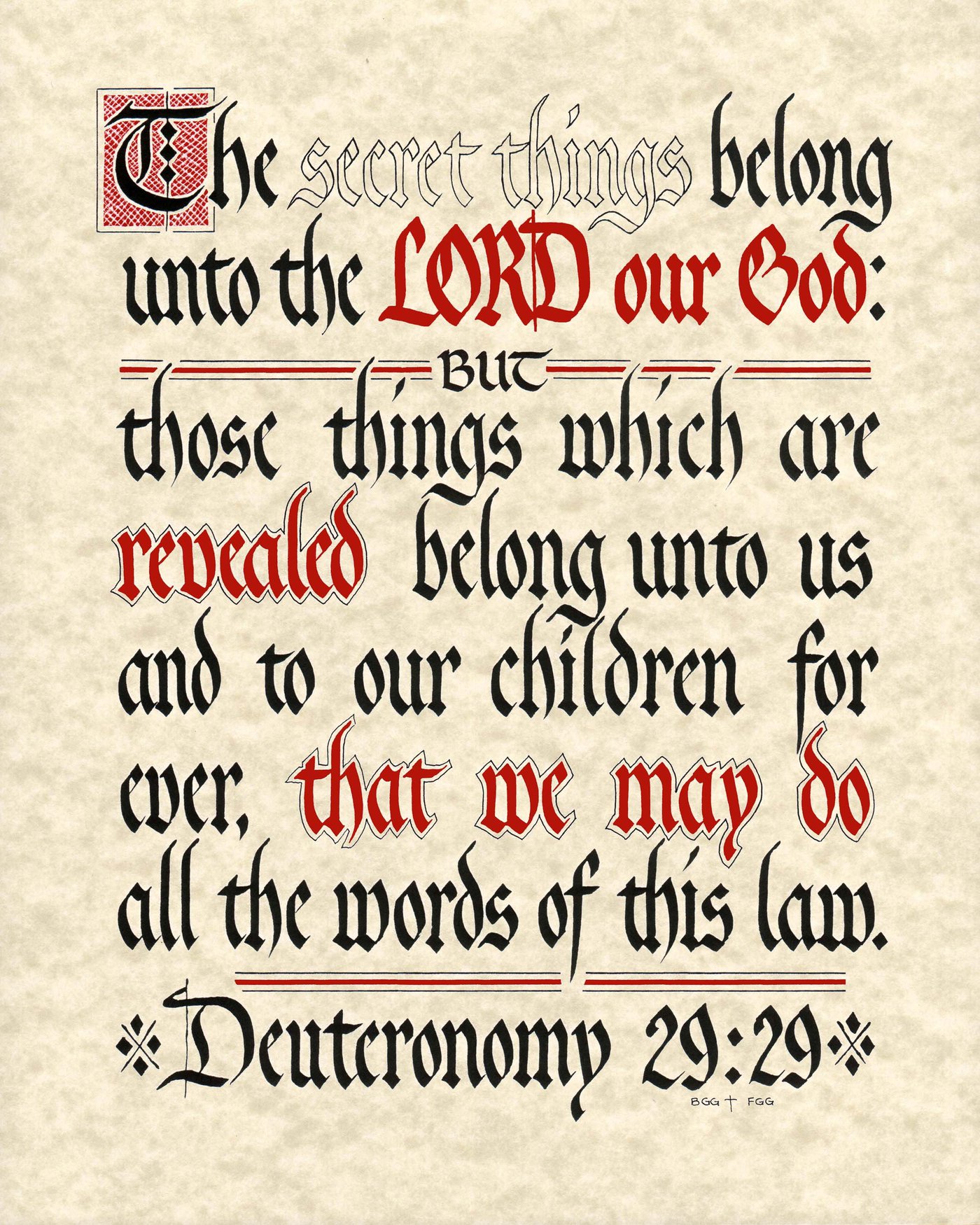 April 22
Colossians 2:8 "See to it that no one takes you captive through hollow and deceptive philosophy, which depends on human tradition and the elemental spiritual forces of this world rather than on Christ."
Today's Thoughts...
Inevitably, man-made tradition claims too much for itself (Mark 7:1-13). We need a Reformation now and then, the upheaval of revival. There's nothing wrong with tradition until your tradition becomes your religion. Jesus broke just about every unnecessary tradition of men in accomplishing his mission, and the religious community hated him for it.
Isn't this why Jeremiah said: ""Our fathers inherited nothing but lies"" (Jeremiah 16:19). Not every cultural tradition is to be celebrated.
Be careful what you listen to. It is our duty to guard the essential doctrines of the Gospel and proclaim them to all: imputation, propitiation, repentance, faith, etc.Check everything against the Scripture. True shepherds won't only address and guard sheep from a high rock, they'll also walk among the sheep and get dirty.
The Spirit provides us with all necessary weapons and armor not simply to stand guard but to assault our Enemy's kingdom. All this through the truth found only in the Bible. ""Be on guard, stand firm in the faith, act like men, be strong"" Paul (1 Cor. 16:13).
The Bible offers our only freedom from both tradition and fads. Be grateful. There is freedom there!
Today's Prayer...
Father, thank you that you are clear in your Word for us there is truth. We don't have to make up truth or invent a good story. Thy Word is truth. It is enough. It is what we have by your Spirit to guide us through this world today. Only by a Holy-Spirit-overcome heart can we guard the deceitfully wicked wellspring of life. We praise you for watching over us and taking care of us in this way. In Jesus' name. Amen.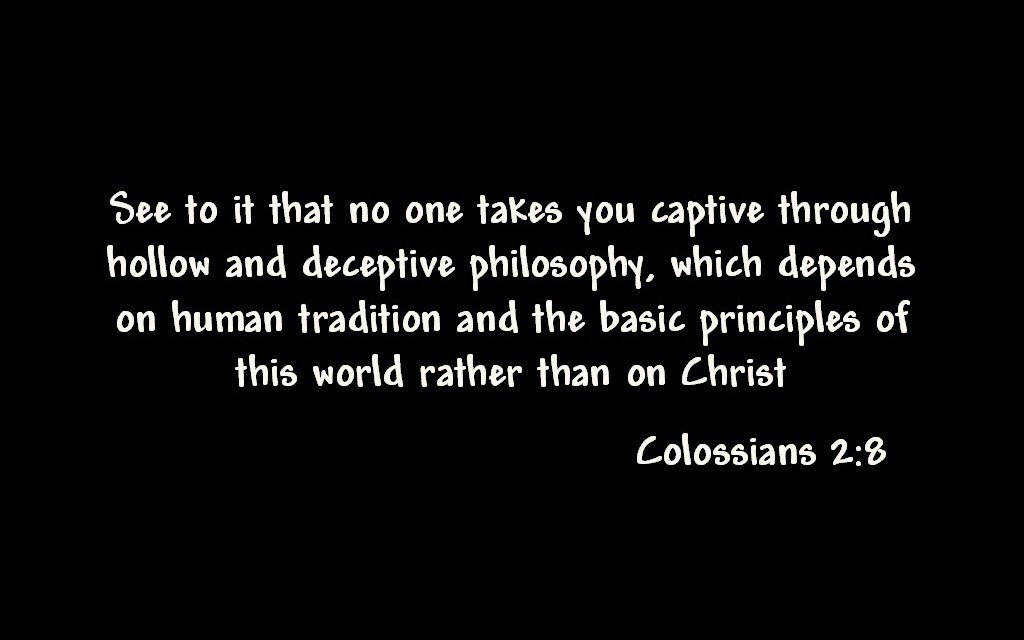 April 23
Jude 1:3 "Dear friends, although I was very eager to write to you about the salvation we share, I felt compelled to write and urge you to contend for the faith that was once for all entrusted to God's holy people."
Today's Thoughts....
If we really value something, we will defend it. The challenge of our day is not only to show that what we believe is right, but to defend our very right to be right. And Scripture alone is the foundation and faith alone in Christ alone is the heart of the faith once delivered to the saints. Contend earnestly.
Charles Spurgeon, the famed Baptist preacher said, ""Defend the Bible? I'd sooner defend a lion. It needs no defense; just open the cage and let it out.""
There are lots of ways to contend for the faith. Not using the Bible in a worship service isn't one of them. And, yet, a divisive person divisive about the right things is still divisive. It's possible to contend for the truth of Christ in the spirit of Satan?
We're not the Moral Majority, but neither are we shying away from tough issues. But wherever we have opportunity, we must be willing to defend the faith, defend the truth, and defend Christ. Rise up, O church. Speak and contend and witness.
Today's Prayer....
Father, thank you for the chance to know your truth. That fact alone blows our hearts and minds! We can know the living God by faith in Christ. Thank you also that we have a reason to defend our faith--because it alone is true because you alone are true. We praise you not that we have the truth only, but that we get to share this truth. Embolden us for the mission! In Jesus' name we pray. Amen.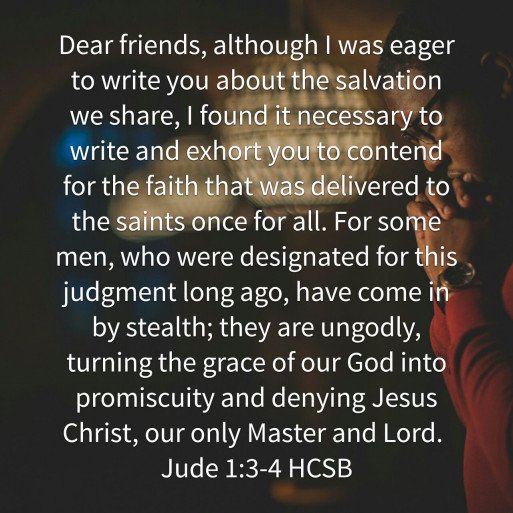 April 24
Galatians 1:8 "But even if we or an angel from heaven should preach a gospel other than the one we preached to you, let them be under God's curse!"
Today's Thoughts...
When does Paul call down God's ""Anathema""? When the gospel of grace is replaced with any other gospel!
The closer other religions get to the one true unadulterated Gospel faith of Jesus Christ, the more deceiving they are. If by ""the gospel"" we mean anything more, other or less than the person and work of Jesus, corrective measures are due!
A sign you're growing in grace: You mentally rehearse the gospel more than you rehearse other people's failures. I get the gospel to the extent it frees me from the need to have other people ""get me"". Only the gospel can free us from our navel-gazing preoccupation for other-centered intrigue and loving. Only the gospel is powerful & sweet enough to move us from self-contempt to godly sorrow. One is death, the other life
Everyone's a sinner. Not everyone's a false teacher. Does the Bible say ""take it easy"" on false teachers? No, this verse says no. The biblical Gospel and biblical truth is something we are called to protect. Ejecting a false teacher from our church ignited a new invigorating phase of gospel growth in our men. Severe mercy, surprising providence
If you bid a false teacher God speed, you share in his evil works. 2 John 1:10-11 Rather say, "I will die for you, but not support you."
Today's Prayer...
Father, may your kindness not only drive us to repentance today, but also to many other forms of gospel sanity and beauty. Yet, Father, we pray that you keep us from falsehood. Thank you that we have a faith worth defending! Thank you our faith isn't a lie and isn't false. It is based on you - the eternal God of truth. Father, we praise you for what you have done for us! Thank you that the Gospel frees me to be fearful from failure--because all my sins have been covered by the blood of Christ. In Jesus' name. Amen.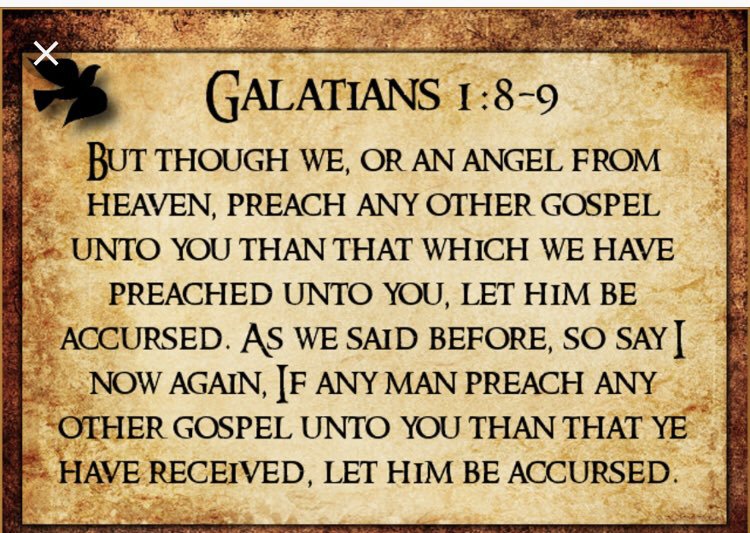 April 25
John 10:27 "My sheep listen to my voice; I know them, and they follow me."
Today's Thoughts...
Jesus' sheep do not know the voice of strangers. If you never follow him, you were never one of his sheep. If you do follow him, you were always one of his sheep. Today!
False prophets come in sheep's clothing, but don't bear fruit. The beauty of fleece and the beauty of fruit are not the same. But Jesus is the GOOD shepherd (John 10:11). Why? He DIES for His sheep (11-13), LOVES His sheep (14-15), and GATHERS His sheep to Himself (16).
Jesus is the door of the sheep. A door both allows in and it keeps out. Jesus is the only way into the kingdom, and He keeps out the wolves. As the door of the sheep, Christ is an open door to sinners, entered by faith, the only entry point leading to eternal, abundant life. All the sheep rightfully belong to Jesus. Long before they come to Him, they were already given to Him, ages ago, as a gift by the Father.
The Lord is my shepherd; I shall not want. Not even for life, because he is the shepherd who lays his life down for the sheep. Will you trust Him and His Word today?
Today's Prayer...
Father, you are the Good Shepherd. We hear your voice because you allow us to. So often we are like sheep who have gone astray, but we praise you that is never what you do. You are always good and faithful. Thank you for watching over us. Remind us today of how much we have fallen--but, equally, how your love holds us up! In Jesus' name. Amen.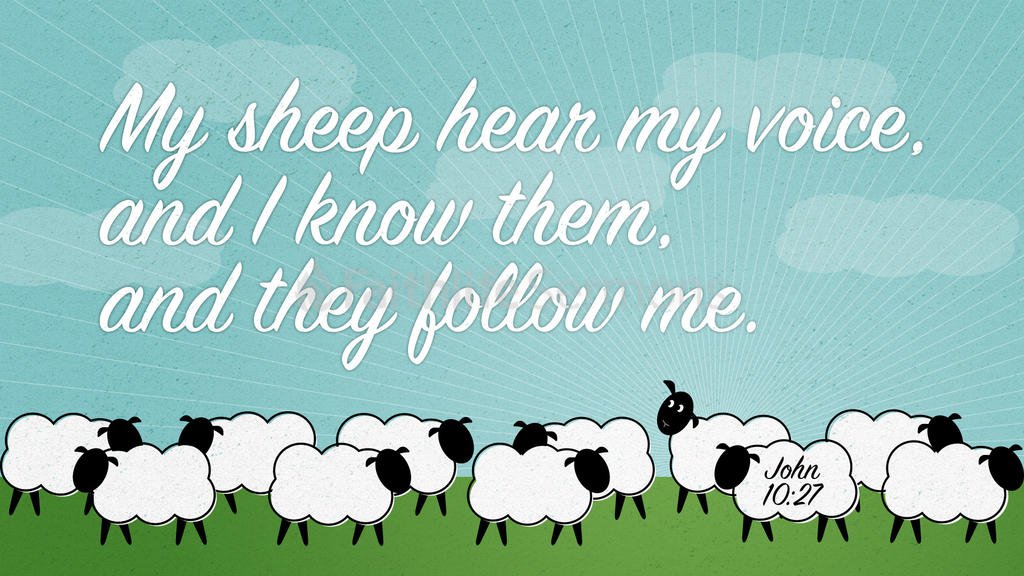 April 26
Deuteronomy 6:4 "Hear, O Israel: The LORD our God, the LORD is one."
Today's Thoughts...
Christian theologian and pastor Cornelius Van Til said, ""All men know not merely that a god exists, but they know that God, the true God, the only God, exists.""
Indeed, the entire religious world goes along just fine until Christians show up and declare that there is only One God and One Savior: Jesus Christ! Only God can make himself really God to us. People can provide support, but only God can redeem. The real God is too big to fit into our weekend margin.
Let's be practical with the truth that there is only one God. Our God is the only God who answers prayer. He is all sovereign, but we do not have because we do not ask. Pray! And He will not disappoint. Not only are your hairs numbered, also your trials, tears and days. Only God's love for you is immeasurable. Trust boldly!
Only God brings revival, but we can prep for it with heavy repentance, craving the word, fervent prayer -- a.k.a, the normal Christian life. We can't orchestrate true revival. Only God can. But we sure can be prepared for it!
These are just two faith lessons that come from knowing the one true God. Who are you trusting today?"
Today's Prayer...
Father, thank you that this great verse is a reminder of the "Shema" - that you are the only God. There aren't multiple gods. You are the only one. Everything else is just an idol of man's heart. Father, break my idols today for your glory. Help me to be satisfied in you and you alone. In Jesus' name. Amen.